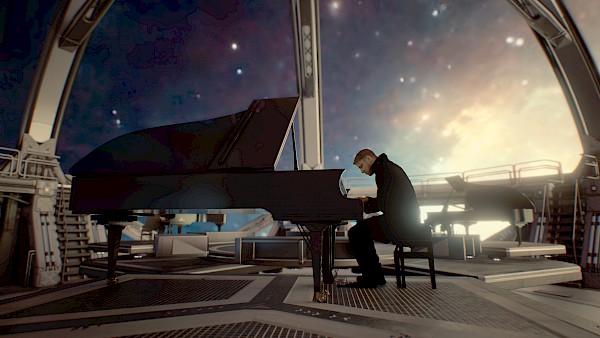 Martin Tingvall is about to enter new worlds twice: The title track of his current album "The Rocket" can now be experienced in a virtual reality - and Tingvall has produced the song as an electronic remix "The Rocket In Space".
His new album "The Rocket" sets itself apart from all his previous work, due to an even greater degree of weightlessness and lightness, without ever drifting into the trivial and banal. In his first VR Experience, Martin Tingvall takes his audience on a spaceship and on a journey through various dimensions. Martin Tingvall plays his single "The Rocket III" simultaneously on three pianos - everything is possible in virtual reality! To celebrate his new electronic remix "The Rocket In Space", participants in this virtual concert can freely switch between the original and the remix by interacting with elements in the environment. You can experience this virtual concert on the platform NOYS VR (to see with Oculus Rift & Rift S).
After two months as number 1 of the German Jazz Charts, the album "The Rocket" is still in the top 10 now. "The Rocket In Space" will be the artist's first VR release single - and will be available on all popular download and streaming platforms from November 29th. On 6.12. the mix also appears on 12 inch vinyl!